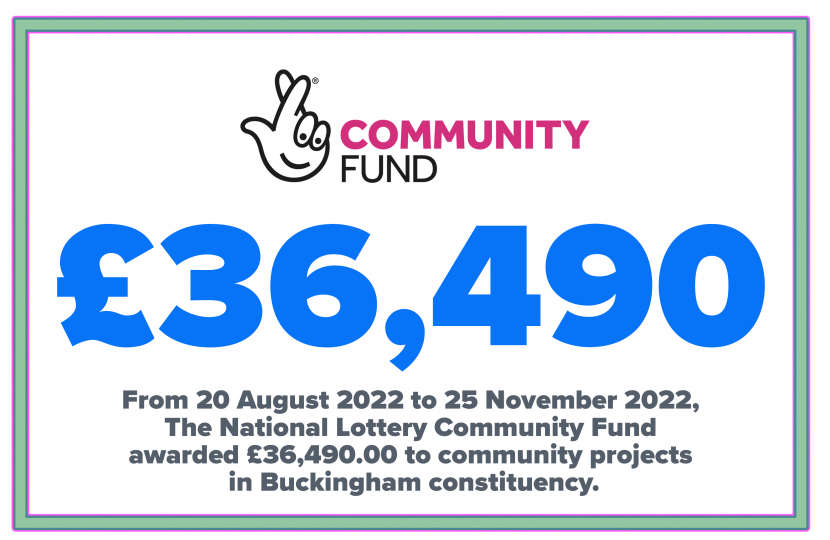 Greg Smith MP has welcomed news that from 20 August 2022 to 25 November 2022, The National Lottery Community Fund awarded £36,490.00 to community projects in the Buckingham constituency.
Projects included:
Car Park and drainage Improvement at Marsh Gibbon Village Hall - £10,000
This funding will be used to carry out repairs and maintenance on the village hall car park. The project aims to ensure a safe environment at a well-used community venue.
Oakley Village Stores - £9,590
The funding will be used to fit out the Oakely Village Store with equipment to establish a community shop in this rural area. The project aims to establish a meeting place and retail amenity for this rural community to reduce the need to travel outside of the village to buy necessities.
Longwick Village Hall - £6,900
The funding will be used to improve energy efficiency in Longwick Village Hall. The project forms part of a wider programme of improvements to the village hall to provide improved meeting facilities for residents of this rural community.
Community Impact Bucks - £10,000
This project will re-establish six volunteer run Pub Lunch Clubs for residents 65+ in rural communities across Buckinghamshire providing ongoing support to 10 PLCs relaunched in the past year. They will reduce isolation improve mental health and develop social connections to reduce loneliness. A project officer will establish levels of need in communities and link with other groups such as parish councils and local organisations to set up clubs.
Commenting, Greg said, "Thanks to National Lottery players, I am delighted the National Lottery Community Fund has been able to award £36,490.00 in Buckingham constituency in the past three months, helping support communities at this challenging time."