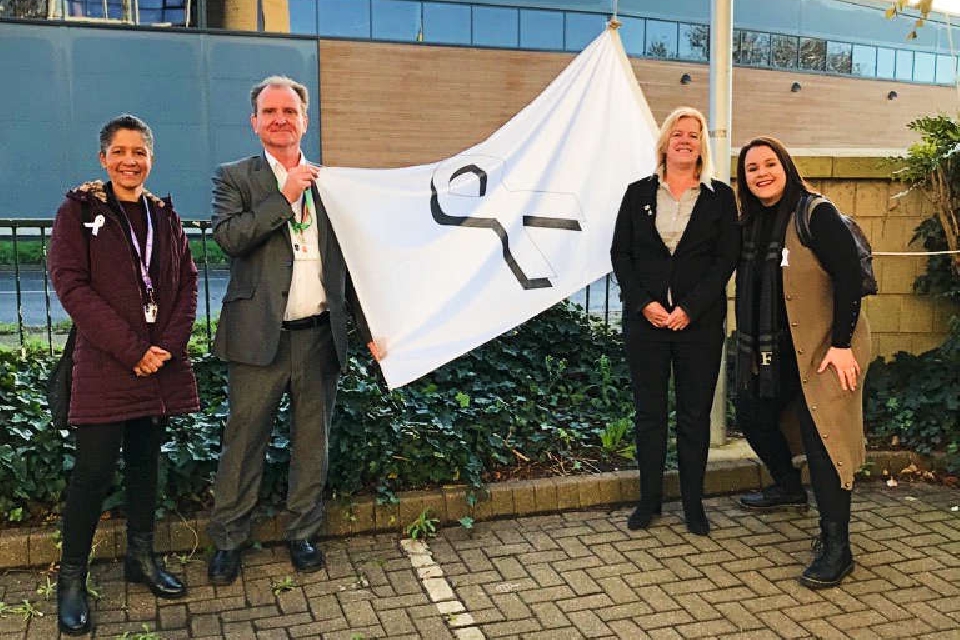 (L-R), Ruth Hemsley, Councillor Steve Bowles, Swan Envoy April Benson, and Faye Blunstone.
Buckinghamshire Council is to once again work in partnership with Thames Valley Police to deliver 16 days of action in the fight to eradicate violence against women and girls.
The campaign runs from White Ribbon Day, 25th November through to Human Rights Day on 10th December.
White Ribbon Day, also known globally as International Day for the Eradication of Violence against Women, takes place annually and aims to raise awareness of the behaviours and attitudes from men and boys that encourage violence against women and girls.
Specifically, White Ribbon Day highlights seven abuse strands: stalking, harassment, sexual violence, female genital mutilation, honour-based violence, forced marriage and domestic abuse.
Alongside the creation of a domestic abuse website, Buckinghamshire Council has organised a range of events and activities to show support and raise awareness.
Today, Cabinet Member for Communities, Steve Bowles was joined by Swan Envoy, April Benson, CEO of Women's Aid Aylesbury, to raise the White Ribbon Day flag outside the council offices at The Gateway in Aylesbury. Flags will be raised at all council offices around the county.
Steve Bowles, Buckinghamshire Council's Cabinet Member for Communities said: "This year White Ribbon Day falls during the FIFA Men's World Cup.
"We know from national statistics that the tensions and heightened emotions during tournaments like this can often lead to greater incidence of domestic abuse which of course we know, can occur against both women and men.
"One of the key messages this White Ribbon Day is to ask men and boys specifically to show their support for #TheGoal to end violence against women and girls."