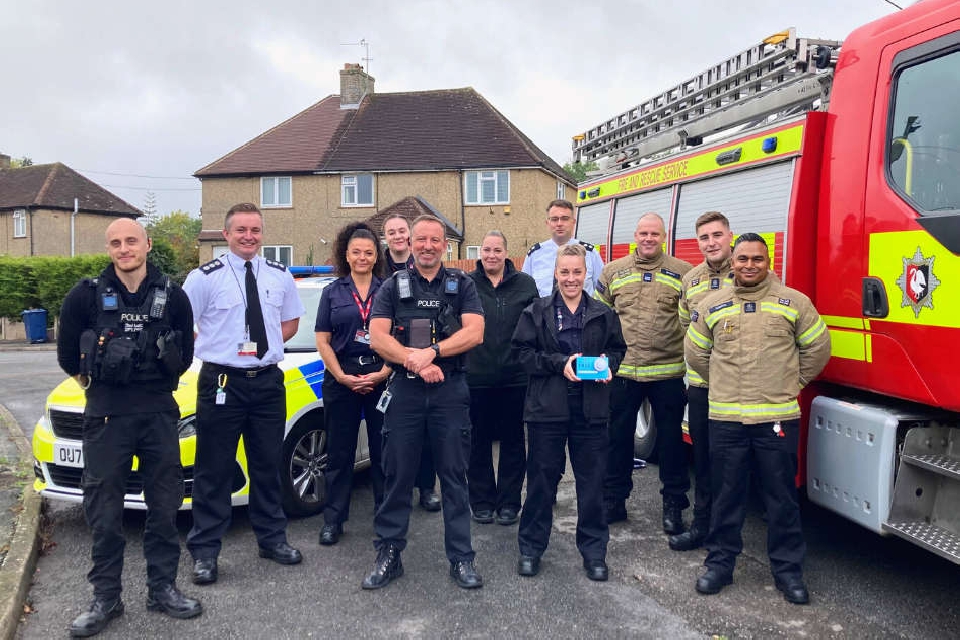 Firefighters and community safety professionals from Bucks Fire and Rescue Service teamed up with Thames Valley Police to delivery safety messages to residents in Chesham last month.
This targeted prevention activity, known as a 'Hot Strike' is usually put into operation following a fire or other serious incident.
The team carries out home fire safety visits and engages with the community in a bid to increase fire safety and tackle anti-social behaviour.
In October they went door to door, speaking with Chesham residents following recent incidents in the area. From the homes they visited the team fitted three fire alarms and one anti-arson letter box.
An anti-arson arson letter box is a metal container or lockable flap that can be fitted onto your letter box to prevent Burning materials such as fireworks being pushed through letterboxes and into the home.
Jo Foot, Community Safety Coordinator said: "The Hot Strike we carried out in the Chesham area on Thursday was well received by residents and the public.
"It was great to work with Thames Valley Police to combine both fire and home safety advice and deliver this straight to residents' doors.
"Being out in the community is the best way to reach our most vulnerable and let people know about the services we offer such as our Fire and Wellness visits."
The Hot Strike team offer the following tips on how to reduce the risk of becoming a target of arson and keep your home secure:
Store all wheelie bins away, preferably somewhere secure, especially at night

Only place your wheelie bin out on collection day and return it to your property as soon as possible after collection

Do not overfill your wheelie bins or leave loose rubbish around them

Avoid placing bins, rubbish, or other combustible items against the walls of the home

Don't leave flammable liquids in the open.

Entry gates should be secured, unless in use, to prevent access by intruders.

Ensure any damage to fencing is repaired promptly to deter intruders.

Close windows when not at home.

Consider security systems such as intruder alarms/security lighting to deter intruders.
Visit their safety hub for more information on keeping you, your family and home fire safe.
If you, or someone you know is concerned about fire safety, visit www.bucksfire.gov.uk/home-fire-safety-visits
For more advice on home security visit https://www.thamesvalley.police.uk/SysSiteAssets/media/downloads/thames-valley/advice/home-security-guide2.pdf