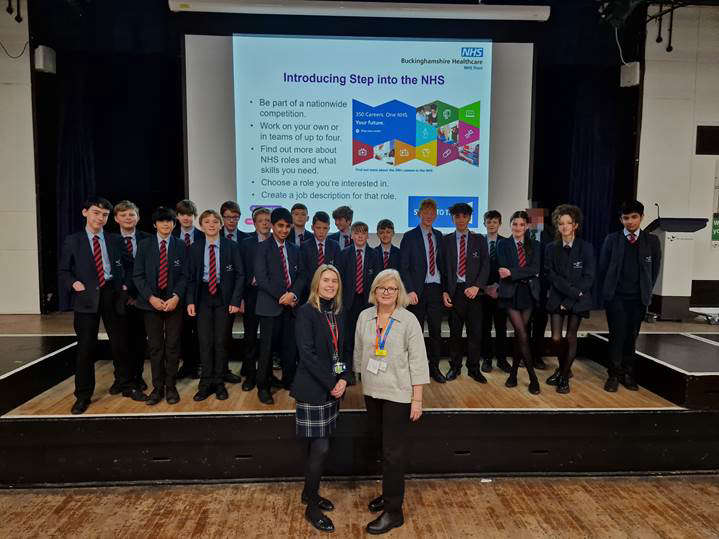 The 'Step into the NHS' competition was launched by Bucks NHS Trust this week
Pupils at The Misbourne school in Great Missenden were given a first-hand insight into healthcare careers when Buckinghamshire Healthcare NHS Trust visited to launch the Step into the NHS competition this week.
The local NHS trust is now encouraging other primary and secondary schools across the county to get involved, with support provided by its new school engagement team.
'Step into the NHS' helps young people find out more about the 350+ careers available in the NHS – from medical engineer to midwife, porter to plumber, finance manager to phlebotomist.
Entrants choose a role that interests them and then get creative to develop an advert, promoting the job in whatever format they choose, such as computer game, video, poster or board game.
Whether they enter individually or as a group, each student will receive a prize if their entry is chosen.
Overall national winner(s) will have their job advertisement displayed publicly for their local community to see. They will also each receive Amazon vouchers worth £50, an NHS goody bag and a framed certificate. Overall national winner(s) will also receive a class prize which will be discussed with the winning school.
Regional winners will each receive an Amazon voucher worth £25, an NHS goody bag and a certificate.
Highly commended certificates will be awarded to the top entries per region.
A certificate for best entry will be awarded to every other school that enters.
The first 20 schools to submit 25 or more individual entries will receive a book for their library.
Winners and highly commended entrants will have their entries showcased in an online gallery.
Karen Bonner, Chief Nurse at Buckinghamshire Healthcare NHS Trust, lent her support:
"Very few employers are able to offer the range of roles that we do, and Step into the NHS is a great way for young people to kickstart their career journey. We'd love to have a winner from Buckinghamshire! I look forward to welcoming the next generation to our BHT family in a few years' time."
Teachers can download free resources for Key Stages 2, 3 and 4 from the Step into the NHS website. The deadline for entry is 30 April 2023.
If you're at school or college and wondering what step to take next, visit Bright Futures @BHT to discover local opportunities.