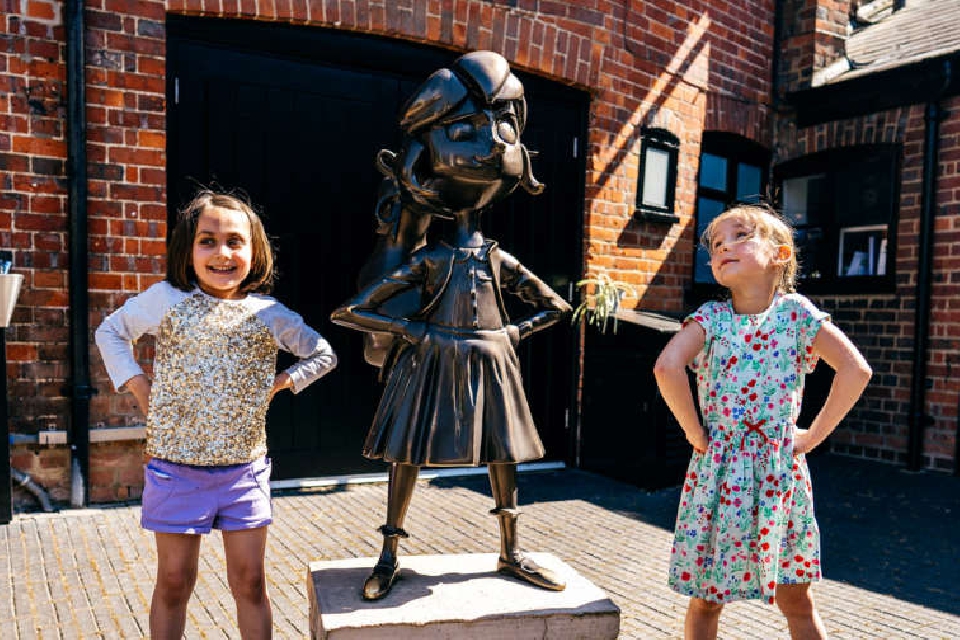 To mark the release of Matilda the Musical film, the museum in Great Missenden are inviting everyone to Matilda Day.
Walk through the Museum gates into the Crunchem Hall Primary School playground and try out some school yard games with a Trunchbull twist. Bring your own homemade Bogtrotter cake for judging in the Bogtrotter Cake Off, and be part of a mass power pose next to Matilda's statue at 11am.
Enjoy Matilda storytelling throughout the day, find the pesky pigtails around the Museum, and explore the galleries with our Marvellous Matilda Challenge. Head to the craft room and help fill the creative wall with your child heroes, or try out some optical illusions and tricks in the pop-up Magical Mind-Bending Room.
You can head to the shop for some special offers on Matilda books and goodies, or share your Matilda power pose photos with the Museum to win tickets to see the film. Plus come dressed up as Matilda, or one of her school friends, for a chance to win a prize.
If you can't make it today, you can visit the museum throughout the month:
Throughout December visitors can enjoy some special storytelling from Matilda in our magical wondrous wood, explore the galleries with a Matilda trail, and find the pigtails hidden throughout the Museum.
You can also try out Trunchbull skittles, hammer-throwing hoopla or Miss Honey's hopscotch around the Christmas tree in the Museum courtyard — now Crunchem Hall playground. You can also try out tricks and optical illusions in the pop-up Magical Mind-Bending Room or pull a power pose by Matilda in the courtyard.
Visitors can also pick up a special Matilda version of our Village Trail to make the pilgrimage to Great Missenden library, which is the very library Roald Dahl imagined Matilda visiting while he was writing the book.
Museum opening days
Open Thursday to Sunday from 10am to 4.30pm
CHRISTMAS OPENING
Tuesday 20 to Friday 23 December: OPEN 10am to 4.30pm
Tuesday 27 to Saturday 31 December: OPEN 10am to 4.30pm
For more details, head to https://www.roalddahlmuseum.org