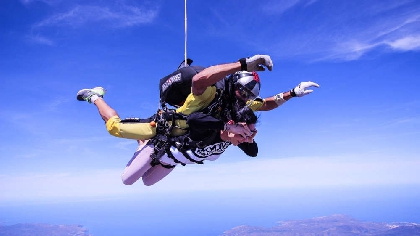 A mum from Bucks will take part in a charity skydive next month.
On 14th October, eight 'angel mums' we will be jumping out of a plane in memory of their young children, who all died from brain tumours.
The group of mums, brought together by their grief, are terrified of heights but are driven by a need to make a change in memory of their children. None of them want to see others go through what their children did.
Rebecca Gaskell, from Buckinghamshire, is jumping in memory of her daughter Grace, who passed away at age 14 from an AA3 / Glioblastoma tumour, the most aggressive and deadly form of brain cancer.
The team is aiming to raise £10,000 for the Tessa Jowell Foundation (TJF). TJF was founded to fulfil the legacy of Tessa Jowell MP, who also died from a deadly brain tumour in 2018. TJF's mission is to transform treatment, care and research for NHS brain cancer patients. The money we raise will go towards the development and roll out of the Tessa Jowell Centres of Excellence for Children.
Speaking as they announced their jump, the angel mums said: "We are spurred on because we've seen our children so bravely face surgeries, chemo, radiotherapy, painful immunotherapy, countless drugs, MRIs and needles. Can you imagine having to watch your child go through all of this knowing that it would only prolong, and not save their life?
"The journey and treatment plans for these tumours mostly have not changed for decades, and not enough is being done to raise money for research. Historically, only 1% of government cancer research funding is spent on brain tumours – this is a devastating statistic.
"When each of our children were diagnosed with their brain tumour, there simply wasn't hope for them and lots of our children were given a 0% chance of survival which is just heart-breaking. We wouldn't wish how we are feeling now on any other families, and so we are determined to raise as much money as possible to enable The Tessa Jowell Foundation to continue their truly ground-breaking work."