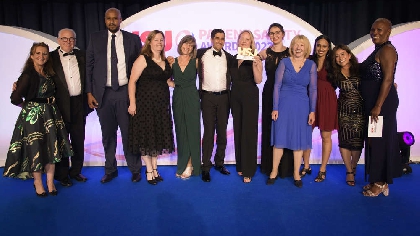 Buckinghamshire NHS Healthcare Trust's Inpatient Pain Team won the Deteriorating Patients and Rapid Response Initiative of the Year at the recent HSJ Patient Safety Awards. 
From a record 516 entries, over 200 finalists were selected, and 24 winners were announced on Monday 18 September. The prestigious awards recognise and reward teams from across the country who have gone above and beyond to improve patient care and achieve excellence in their field.
The Inpatient Pain Team developed and successfully rolled-out a 'Mobile Block Service' at Stoke Mandeville Hospital. The Mobile Block Unit provides rapid regional analgesia – numbing a particular part of the body for pain relief – for patients admitted with traumatic rib fractures and who are at risk of deterioration, wherever they are in the hospital and not just in theatres.
This service is a first for an NHS trust in the region. The project was highly praised by the judges for surpassing award criteria, showcasing impressive outcomes, and widespread and strong patient involvement. Judges foresee its potential to be shared nationally as the gold standard in innovation for benefiting a high-risk group.