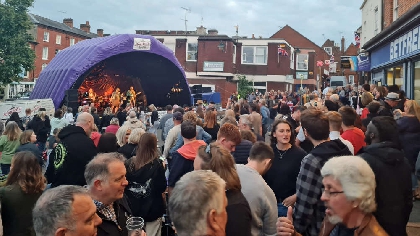 Bring your chair and picnic blanket and come on down to Buckingham town centre to enjoy some a fantastic variety of live music from local artists.
Bands and musicians will take to a purpose-built stage in Buckingham town centre on Sunday from 1pm – 10pm. Taking part this year are The Toucans an exciting young band. Established local bands Brothers Homebrew, 60's Jukebox and Woo Last year's headliners Muz n' Jenks will also return. Also appearing this year will be high profile local acts Smith & Brewer and Tu-Kay & Ryan who are building an impressive presence on the folk scene.
To add even further variety throughout the day there will be choral performances from Stagecoach, Glee Club and Bittersweet Music, and even some dancing from Bollywood Beats and the Brackley Morris Men.
Organised by The Buckingham Acoustic Club and supported by Buckingham Town Council. Music In the Market is now in its 22nd year and is enjoyed by residents and people from surrounding villages. The event will be opened at 1pm by new Town Mayor and the Town Crier.
Chair of the Town Centre and Events Committee, Cllr Robin Stuchbury had the following to say: "We are very pleased to be working in cooperation with the Buckingham Acoustic Club to be creating a free music event, tailored to the diverse tastes of the community and held in the town centre. The event is free due to the financial and practical support of the Town Council Town Centre & Events Committee and volunteers from Buckingham Acoustic Club. We look forward to seeing the community attending!"
A road closure will be in place for Market Hill from the Kings Head/Moreton Road junction to the junction with West Street from 7am until 11:59pm on Sunday.