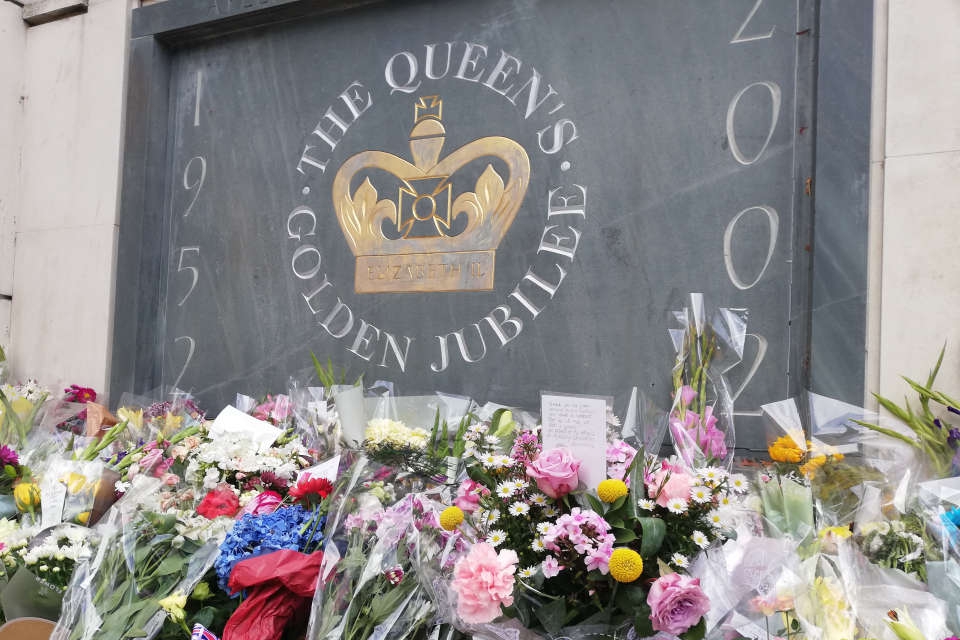 From paying your respects, to what's closed, here is a guide to this weekend ahead of Her Majesty, Queen Elizabeth II's funeral. (Some of this information is taken from Leader of Bucks Council Martin Tett's newsletter)
Books of condolence
There are many of these open across Buckinghamshire, including those at the following council buildings:
Reception of the council offices, Walton Street, Aylesbury
Reception of the council offices, The Gateway, Aylesbury
Reception of the council offices, Queen Victoria Road, High Wycombe
Reception of the council offices, King George V House, Amersham
Chesham and Buckingham libraries
These are open between 9am and 5pm every day including the weekends and including on Bank Holiday Monday (when most other council buildings and services will close for the day – more on that below).
There are many other books of condolence also open across Buckinghamshire and we've put the details of those the council has been informed about onto our website. You can also leave a tribute at the national Book of Condolence on the official website of the Royal Family.
Many local churches and other organisations have also opened books of condolence; the council isn't always notified about all of these so please do check within your local communities and networks for any books of condolence or tribute sites open in your local area.
Tribute sites in Buckinghamshire
Places for residents to lay flowers and other tributes have been set up at six town centre locations across the county; these are at:
Aylesbury Town Centre at the Queen Elizabeth II plaque next to the steps of Metro Bank, Market Square
Amersham next to the flagpole outside King V House, King V Road
Buckingham at Coronation Trees, next to the war memorial at St Peters and St Paul's Church
Chesham at the War Memorial in The Broadway
High Wycombe outside the entrance to the council chamber, Queen Victoria Road
Marlow on The Causeway
Buckinghamshire memorial service
The council is holding a service of memorial to remember Her Majesty Queen Elizabeth II on Saturday (17 September) at 3pm at St Mary's Church, Aylesbury. This will include representatives of communities across the county. As space is very limited we are unable to open this up to the wider public but of course we want residents to feel involved in this important event so we will be live-streaming the service for everyone to watch.
You can watch the service by clicking on this link.
ou may also be aware of the National Moment of Reflection at 8pm on Sunday 18 September, the night before the State Funeral. This will allow people across the country to reflect in their own way, be it privately at home, amongst family and friends or at a wider community event.
Local arrangements for the Bank Holiday
As you will be aware, Monday 19 September has been declared a national Bank Holiday to mark the day of Her Majesty Queen Elizabeth II's State Funeral. It means we are making changes to our services, closing most operations for the day.
The closures include our Household Recycling Centres which would usually remain open on Bank Holidays. This is to allow our staff the opportunity to pay their respects and to observe the funeral. We will still run 24/7 operations like care services and the buildings with books of condolence will remain open to allow people access until the day following the funeral. Otherwise, services like bin collections will not operate on Monday; please check our website for up-to-date information on how our services are impacted.
Our country parks and other council-owned parks and green spaces will remain open on Monday to allow for quiet reflection and remembrance. However, toilets and catering at Denham Country Park will be closed and only limited catering at Black Park and Langley Park will be open. Public conveniences at other council-owned parks will be open as usual.
Please also note that many local facilities like National Trust sites and supermarkets, that would usually be open on a Bank Holiday, are also expected to close. The advice is to check before travelling if you're choosing to go out and to bear in mind the general approach that it's a sombre day of national remembrance. We expect local bus services to be running a Sunday service on Monday, again, please check before you travel.
Advice if considering travelling to London or Windsor
As you may well have seen on the news, extremely large numbers of people are expected to travel to London in the coming days, where Her Majesty Queen Elizabeth II is Lying-in-State at the Palace of Westminster. Crowds are also expected in Windsor in the coming days, where The Queen will be laid to rest at St Georges Chapel on Monday following the funeral in London.
Comprehensive guidance is available on the Government's website for those intending to try to visit London; overall, the general recommendation is to "be prepared, and be informed", on matters covering all aspects, from transport, to security, to the weather. Please check the Royal Borough of Windsor and Maidenhead's website for up-to-date advice and information around arrangements in Windsor.
Aylesbury Foodbank
The food bank has assured residents they WILL be open on Monday 19th - working on reduced hours.
Bin Collections
With Monday now being a Bank Holiday, remember your bin day is likely to change, with collections a day later than usual.