Live in the Park 2022

Aylesbury Town Council's Live in the Park is back for 2022
on the 27th of August from 12 noon until 9:30pm.
It's a totally FREE EVENT full of live music and family entertainment.

Last year at Vale Park.
This year the BANDS are:
The Bucks Radio Second Stage will host:
The first "mix tape" of the event featuring snippet sets from Lily Rea, RajD and Chloe Green
Bitterroot - American swap rock and blues
Clark Rainbow - alternative originals on guitar and piano
LJ Pheonix – 80's synth pop
Micoran – up beat covers to start the party vibe
The Band with No Name – Indie pop covers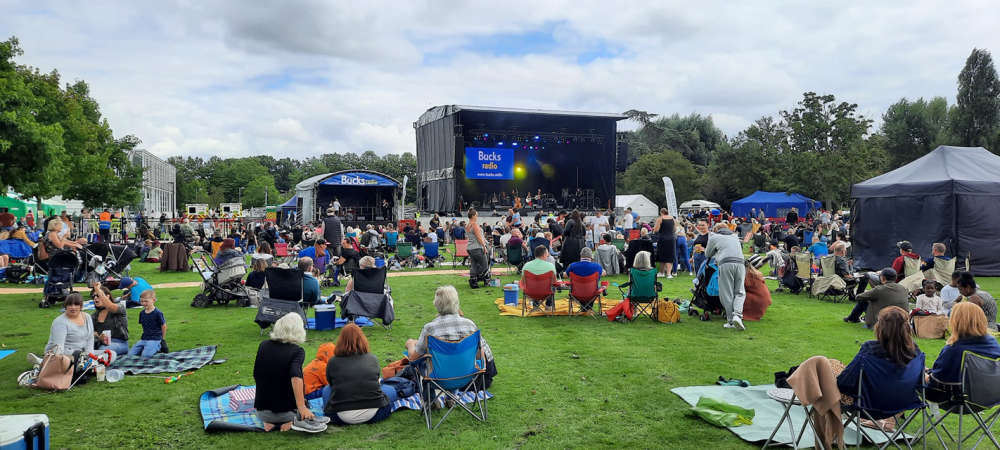 The Main Stage will see:
Just Can't Get Enough – 80's covers
Damo and the Dynamites – 50's good vibe Rock & Roll
Next Stage Choir – huge choir performing contemporary classics
Heidi Browne - Upbeat rootsy bluesy country folk. 'Summer soulful and full of sass'
T Baze – afro beats
Codename Colin – Ska, with twist that will blow your mind

ZARAK will be closing the day with an epic headline set – their intense rock sound combined with some cheesy covers will ensure you have a memorable night.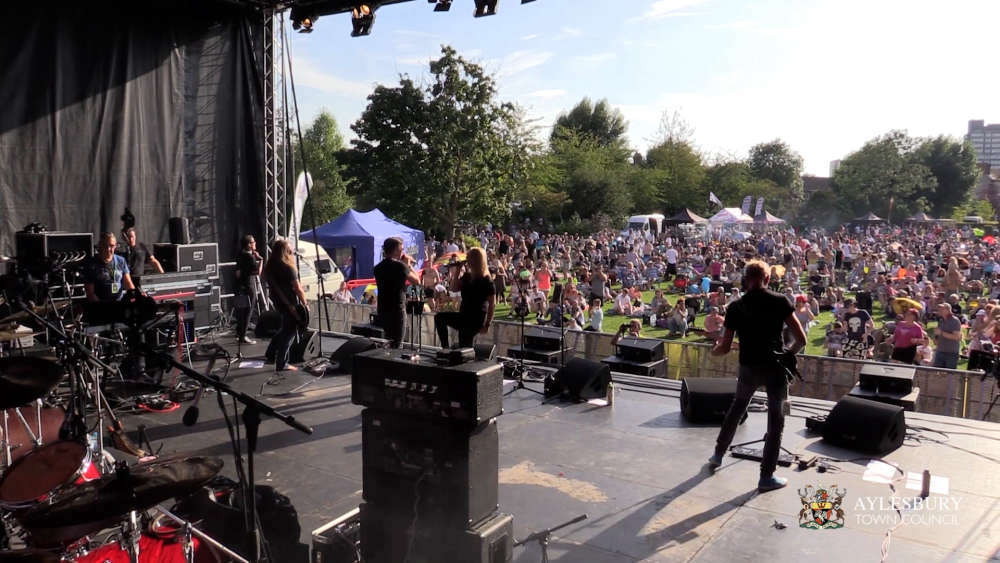 All artists and bands are local, living within 25 miles of Aylesbury.
New for this year is the Battle of the Bands hosted alongside XYZ Music Academy. This will take place in the evening in the Kids Ent Tent marquee from 6:30 – 8:30pm. Come along to support new artists who are battling it out to performing on the main stage in 2023.
It's going to be a popular one, please only join in the fun if you're fit and well.
Live in the Park is a free festival hosted by Aylesbury Town Council which brings communities together in a safe, fun and entertaining environment.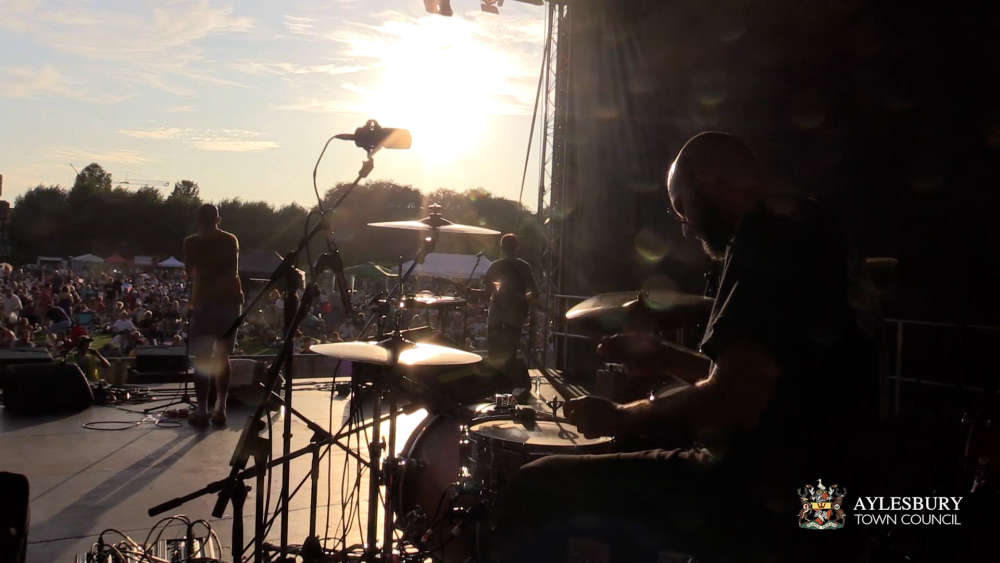 Accessibility Information
Aylesbury Town Council are proud to be holders of the Fair4All Events Award, ensuring the event is accessible for all. This includes sign language interpretation for the entire nine-and-a-half-hour event by Marie from Hand Talking. Along with a whole host of other additions to make life better for those with a wide range of disabilities. See the Facebook event listing for more details.
Lots of blue badge parking is available at Aqua Vale Swimming Pool with thanks to the volunteers from BORG 4x4 response.
Should you require any assistance, simply chat to the team wearing the sunflower lanyards – or anyone in a green event crew t-shirt, the team are always happy to help.
There will be a raised viewing platform, with accessible toilets close by.
Should you wish, face masks and shields are available, along with lots of sanitiser stations.
The Hand Talking team will have a dedicated quiet space beside the steps of Aqua Vale, should you need some time away from the event.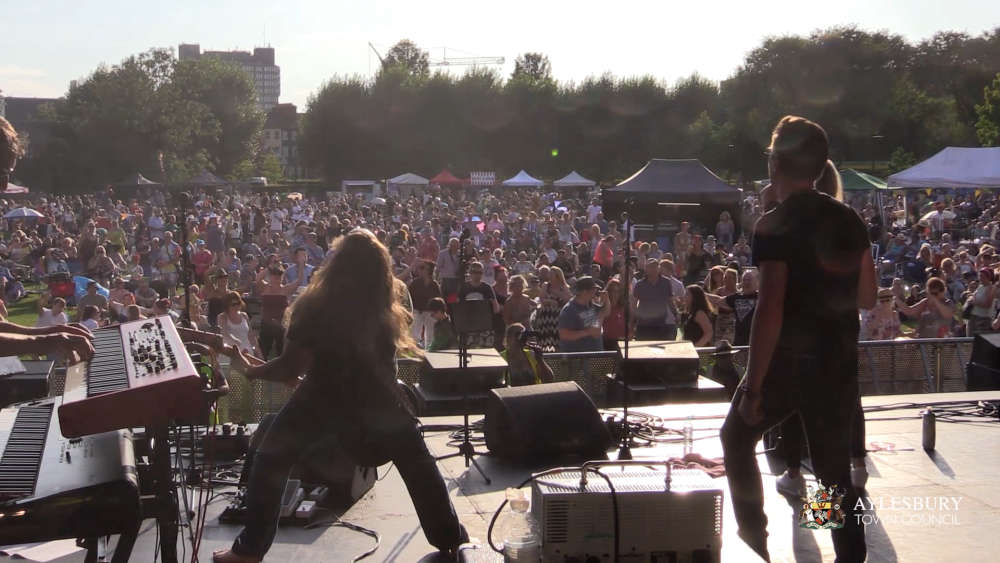 Family Entertainment Tent and Community Involvement Area
Aylesbury Town Council's Live in the Park is back for 2022 on the 27th of August from 12 noon until 9:30pm.
It's a totally FREE EVENT full of live music and entertainment. Yes, all of the entertainment and activities are free.
Back by popular demand is the Kids Ent Tent - featuring some of the town's favourite party entertainers.
Simon Says Magic with shows for all ages
DJ Dan Blaze will be hosting some raucous games pitching the kids against the "grown-ups"
There will be some Disney princess singalongs
A hilarious interactive Fairies vs Superheroes Game Show Giant bubbles
And a range of "special guests" mingling with the crowd
In the CIA - Community Involvement Area – local businesses, charities and organisations have a wide range of fun, games and activities to amuse the kids while you can find out more about what's available on your doorstep. You'll find



Music sessions with XYZ Music school

Queens Park Arts Centre with some great festival craft

Face-painting with Zoomania

UK Astronomy have some awesome scopes to see the suns flairs

Aylesbury wombles will be helping you create your own sculpture from the rubbish they have picked up off our local streets – as well as

keeping the event site tidy



As well as Bucks Army Cadet Force / Affinity Badminton / Medical Detection Dogs / Florence Nightingale Hospice Charity / Yoga / Salsa and, new to this year's event, Code Ninjas and many, many more great activities to try out.
Younger children can also enjoy the swing boats and mini-chair-o-planes.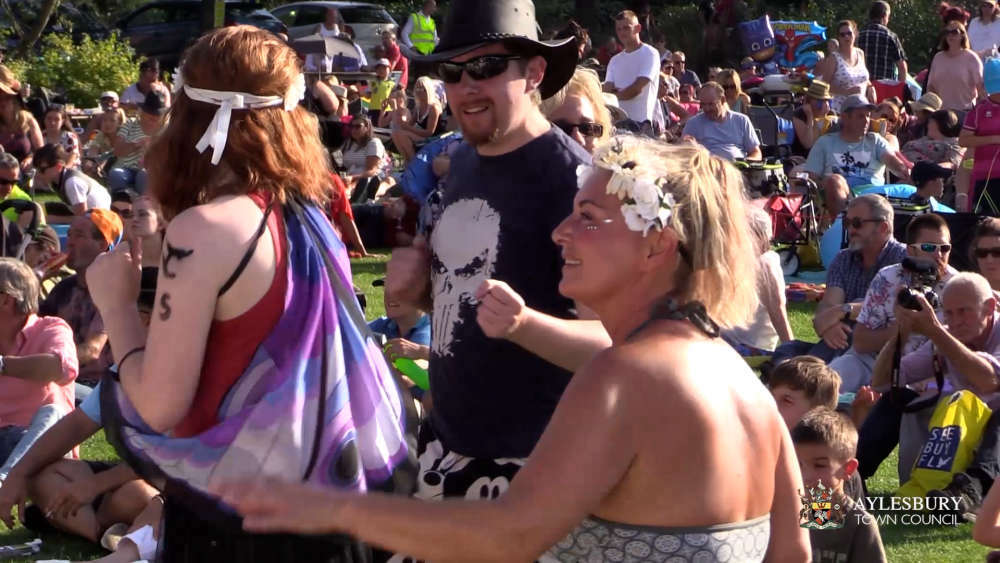 Food and Drink
Aylesbury Town Council's Live in the Park is back for 2022 on the 27th of August from 12 noon until 9:30pm.
It's a totally FREE EVENT full of live music and entertainment.
You can bring your own picnics – including drink - just no glass please.
Or grab cold drinks and hot food from the amazing local catering stalls and bars.
You will find local favourites including
Bokkie – new to the event serving South African fusion food
Queen of the Kitchen – serving Caribbean classics
JGM snack bar – great burgers, hot dogs and bacon butties
Buddha Bowl – bringing you outstanding vegan options
and Go Greek – you would have seen their barbeque in Ayesbury's Market Square
And lots of ice-cream, sweet treats, coffee and cakes too
Local bars are looking forward to serving you cold beer and other drinks
As part of Aylesbury Town Council's commitment to the environment, single use plastic cups will NOT be issued at any of the bars. Instead, reusable and recyclable plastic cups can be purchased at £1 each or bring your own from previous years.
FOR MORE DETAILS HERE (EXTERNAL WEBSITE)