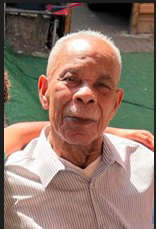 John Brackin Snr
The family of John Brackin Snr, who died following a burglary last month, has paid tribute to him.
During a burglary at his home in Cedar Terrace on 19 November, Mr Brackin Snr was seriously injured, and sadly he later died.
Thames Valley Police is conducting a murder investigation.
The following tribute to Mr Brackin Snr is made by his family:
"John Brackin Snr was Father to five children: John Jnr, Orban, Burton, Julie and Danny, as well as a beloved Grandad and Great Grandad. He loved being around his family, we all meant so much to him. He meant so much to us. He was so cruelly taken from us at 91 years of age.
"John was born in St Vincent in the Caribbean and moved to the UK in the early sixties.
"He had been retired for many years, but in his working days he worked at William Hands Furniture as a stoker and also in maintenance.
"He was a very proud man and a very neat and orderly one. Everything in his home had a place and he didn't like anything out of that place!
"In later life, other than spending time with family and friends, he enjoyed watching his favourite programme Desmond's and loved a brandy.
"In his latter years, he didn't go anywhere without his slippers! He even attended the funeral of his beloved Rose in them earlier this year. He liked to be comfortable!
"He was quite simply a lovely, bubbly gentleman. We will miss him dea