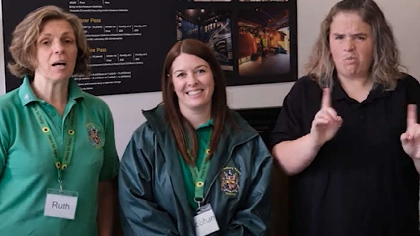 Aylesbury Town Council has funded a new project to ensure their free community events are as accessible as possible for residents.
'Visual stories' support potential visitors with neurodiversity to Town Council events by providing information about what to expect in advance of the event.
A visual story video has been published ahead of the Town Council's first event of the year, St George's Day Royal Historical Fayre and Parade.
This resource is intended to help prepare any visitors for a new experience and to help them to become familiar with the surroundings.
Free community events take place every year in Aylesbury and all feature many accessible aspects including British Sign Language for performances, sensory maps, quiet spaces, wheelchair accessible viewing areas and large print material.
The Mayor of Aylesbury, Cllr Tim Dixon, said: "We are proud to provide residents with accessible events on the day, however we wanted to make sure everyone felt comfortable ahead of event days. With our visual stories, residents with accessibility needs can see what to expect.
Visual stories are a known and trusted access tool used by many public buildings, museums, theatres, schools, and large festivals across the country to support those with sensory dysregulation in a non-judgemental and reassuring way. The Town Council is delighted to be able to widen its events access to residents."
The visual stories project is part of the Town Council's aim to further improve their accessibility offerings and forms part of a larger accessibility plan. A video will be published for each of the Town Council events for 2023 including Aylesbury on Sea, Parklife Weekend and Christmas on the Cobbles.
To view the visual story for the St George's Day Royal Historical Fayre and Parade visit https://bit.ly/StGVS23. Click here to view further accessibility features at events: https://bit.ly/ATCAccessibility
The event takes place on Sunday 23 April from 11am-4pm in Aylesbury. Visit the Town Council's website for more information: https://bit.ly/StG2023