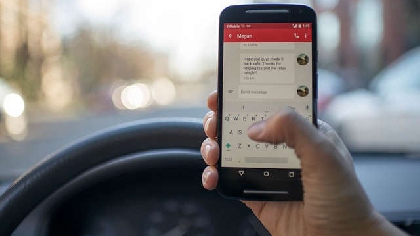 Drivers in Buckinghamshire are being warned of the dangers of using mobile phone and hands-free devices behind the wheel.
From March 2022, it has been illegal to use hand-held mobile devices when driving on the road. It has also been proven that the drivers who are distracted by external sources, such as mobile phones, have reduced hazard detection abilities and slower reaction times. Drivers are also less aware of their surroundings and speed, and they are less likely to see road signs compared to those who are fully focused on the road.
Buckinghamshire Council is raising awareness and says it's essential for all drivers to know how to keep themselves and others safe while driving.
Steven Broadbent, Cabinet Member for Transport, said: "Using your mobile phone while driving is one of the reasons there are serious collisions on the road. For drivers that are caught using a mobile phone it's 6 penalty points on your licence and a £200 fine. If you lose your licence, how would that affect you, your job and your family?
"This is why Buckinghamshire Council is #standingupforhangingup and wants to raise awareness of the dangers of using a phone whilst driving. It's simply not worth the risk to answer a message or a call when driving. It doesn't matter if you are stopped in traffic – you can still be prosecuted. If you must change your satnav or answer a notification, please wait and park safely before reaching for your device."