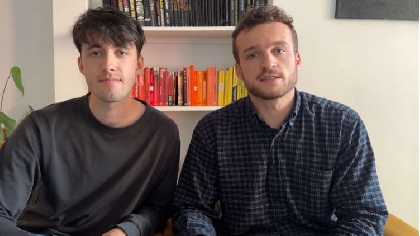 Sam Bassett (left) and Sam Perry (right)
Two filmmakers from Bucks are seeking funding for a feature documentary on the rituals surrounding football.
Sam Bassett and Sam Perry met playing for Crendon Corinthians, their local team in Long Crendon, which ignited their passion for football.

The film will take the form of a series of intimate scenes conveying the richness of football culture, and how it has become embedded in the daily lives of its devotees. It will span nationalities, genders and ages, to accurately capture the eclectic nature of the game and its fans.

The documentary will return to the individuals featured, using football as a vehicle to go deeper into their lives and the world in which they inhabit. These different narrative arcs will be weaved together to build an image of the human condition, told through football. It'll examine just how deeply football has shaped our everyday experience, from drunken pub banter to Sunday league matches in Eastern European fields.

The pair are looking to raise £40,000 to produce the film and have launched a crowdfunder.
Sam Perry has been speaking to Bucks Radio: