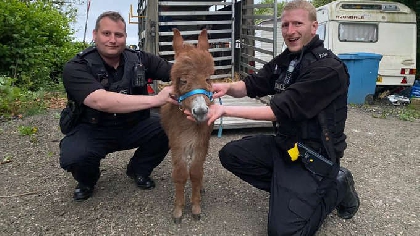 Two people from Bucks have been arrested after a baby donkey was stolen from a farm in Hampshire.
12-week-old Moon was missing for more than two weeks before being reunited with her mum and owners on Wednesday.
A 17-year-old and a 38-year-old from High Wycombe are being questioned on suspicion of theft.
Pamela Jessopp, of Millers Ark Animals, added: "We are beyond excited ecstatic. You always hold out hope but as the time frame and the time window got larger you do wonder if she would be found or not.
"It is so much down to members of the public, our supporters that have got the word out there and spread it on social media. It's been a heartfelt story that has caught people's emotions.