Essential Christmas for Bucks
Which pharmacies are open across the Christmas break?
Train Services
We are being advised not to travel unless absolutely necessary over the this period. Find out more information about how upcoming industrial action will affect services by visiting www.chilternrailways.com/strike
Christmas Bin collection times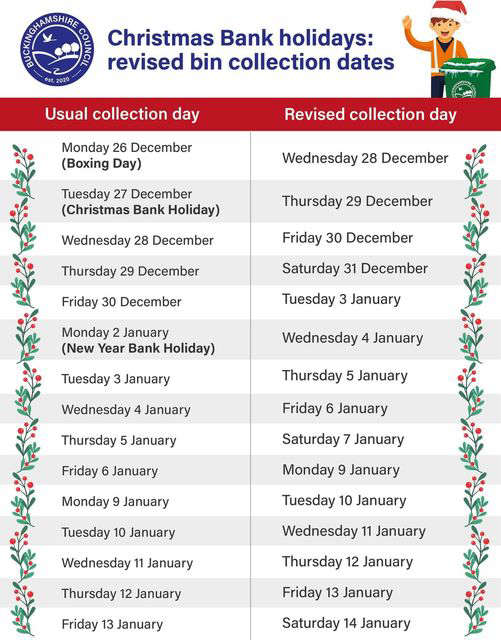 Have lots of cardboard on Christmas morning?
You can recycle cardboard at home across Bucks and the 9 household recycling centres. Find out more here: http://ow.ly/qsYN50M35i4
Mental Health help during Christmas time
The Bucks Mind telephone line will be open until 4.30pm on Friday 23rd December. It will then be closed until Tuesday 3rd January 2023.
However, Safe Haven will only be closed on Christmas Day and New Year's Day.
You can also find out the best ways to seek help and advice at the Healthy Minds Bucks website: www.oxfordhealth.nhs.uk/healthyminds
If you need help urgently, please click here or call NHS 111.
Council help for struggles with the cost of living over Christmas
If you need emergency support or help with food and/or energy, you can contact the council's Helping Hand service using the online form or by calling 01296 531 151. However this service is closed at weekends and on the public holiday days over Christmas.
If you or someone you know is in significant and immediate need of food and cannot wait until the next working day when the Helping Hand service is open, and has no other avenue to help, you can contact the Emergency Social Work Team on 0800 999 77767. Please note they will not be able to provide food on Christmas Day when the shops are closed but otherwise can provide immediate help and advice in an emergency.
You can find out more information about the service and other support available at the Council's cost of living webpages: www.buckinghamshire.gov.uk/cost-of-living
Aylesbury Foodbank information