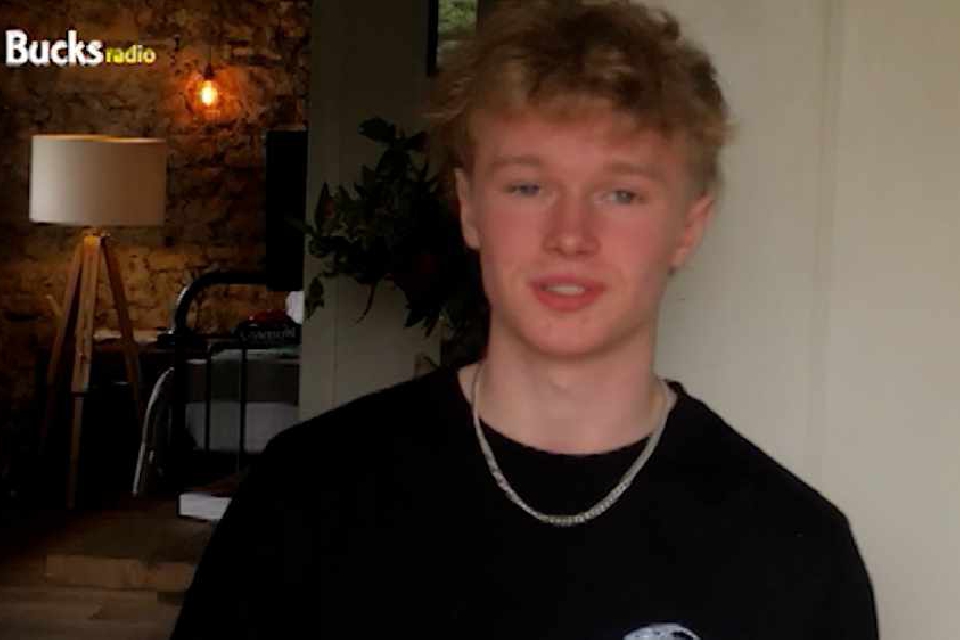 Noah Cosby
Noah Cosby's fundraiser for his extensive rehabilitation has soared past £100k
A 16-year-old from Bierton has told Bucks Radio he's eternally grateful to those who have donated to help him get back on his feet, after an horrific 35ft fall on a dirt bike that left him paralysed from the chest down.
Noah Cosby's fundraiser, that was started a little over a week ago by his devoted parents Ben and Candy, has exceeded its original target of £100,000 - with a new aim of £200,000 now set.
#BackingNoah has been re-Tweeted by the likes of Jeremy Clarkson and Clare Balding, and last week the teenager shared his story on national television with This Morning's Holly Willoughby and Philip Schofield.
Please take a moment to read this and donate if you possibly can. Thank you #BackingNoah https://t.co/TvCCQ5OWAP

— Jeremy Clarkson (@JeremyClarkson) May 24, 2021
It was a normal day for Noah on March 7, as he and his friends set out to ride dirt bikes in perfect weather conditions.
As he told Bucks Radio: "I took a few run ups [to the jump], and I just gave it a bit too much. I fell from about 35ft to flat, and my legs gave way.
"Obviously the bike had hit the ground as well, and the force went through my back. I felt it break...it was like an electric shock. From the site of the injury down through to my legs, it felt like touching an electric fence.
"I thought it was just the impact jolting me - but as soon as I flopped off my bike and was on the floor, I realised I couldn't move my legs."
There will be many tough days ahead for young Noah Cosby - he's been so brave after a shattering injury. He's working hard on his rehab but physio would really help. Read more below and thank you for any support you feel able to give #BackingNoah https://t.co/RjZxF0a5n3

— Clare Balding 💙 (@clarebalding) May 25, 2021
Noah had broken his back in two places, and was taken to John Radcliffe Hospital in Oxford. Despite the extent of his injuries, he says he didn't panic - instead reassuring his parents that he would "be alright."
WATCH: #BackingNoah - the Cosby family speaks to Bucks Radio
Thanks to the Cosbys' proximity to Stoke Mandeville Hospital, Noah is being treated there at the moment. Ben stays with him throughout the week, an experience that is proving isolating.
He told Bucks Radio: "When we were at the John Radcliffe in the early days, we had a lot more freedom.
"My wife likes to be on the ward with Noah, but Stoke Mandeville's Covid-19 rules are much more stringent.
"It's just been just myself, almost like a roommate with Noah - and we can't really leave the ward, apart from doing one hour of physio every other day. That's been incredibly tricky."
These sentiments were echoed by mum Candy, who described the past few months as "harrowing."
She added: "I wake up every morning and the first thing I think about is my son not being able to walk - and everything that entails.
"The dreams that are shattered - the things that he's wanted to do, and the life that he previously led has been turned on its head.
"Some days you can cope with it amazingly, and you feel super energetic. Other days, it hits you like a lorry - and you can't do anything; you can't function.
"We've got a young son too, who's found things very difficult. It isn't normal family life at all. Noah isn't the independent boy that he was."
Sending our best wishes to Noah, a friend of the team. #BackingNoah 💚https://t.co/8osEFgWaKZ

— Aston Martin Cognizant F1 Team (@AstonMartinF1) May 27, 2021
The sporty teenager, who dreamed of pursuing Freestyle Motocross as a professional career, has recently been allowed to come home to Bierton at weekends.
And the fundraising for his rehabilitation continues.
Dad Ben added: "As soon as we're discharged from hospital, Noah will be heading up to a facility in Hull for a six-week intensive physio course.
"And from there, it will be every course we can find - be it in England, Australia, America. Just anything to get him walking."
Noah gave his heartfelt thanks to all the people who have given to his cause.
He said: "Mum and Dad first set [the target] as £50,000, but were advised to double it because we're going to need a lot more than that.
"It's quite sad that it all comes down to money, but it's true.
"It's crazy how much it's grown; it's just really overwhelming. And I've been getting messages from people in the extreme sports world, like Travis Pastrana. He's been a hero to me since I was born; I remember drawing pictures of him when I was super young.
"Getting a message from him was incredible. I never thought I'd be having conversations with him.
"I'm so unbelievably grateful. I don't really know how to show it, and I wish I could just give everyone a hug that's donated.
"I really can't believe it - thank you."
You can donate to Noah's cause here.