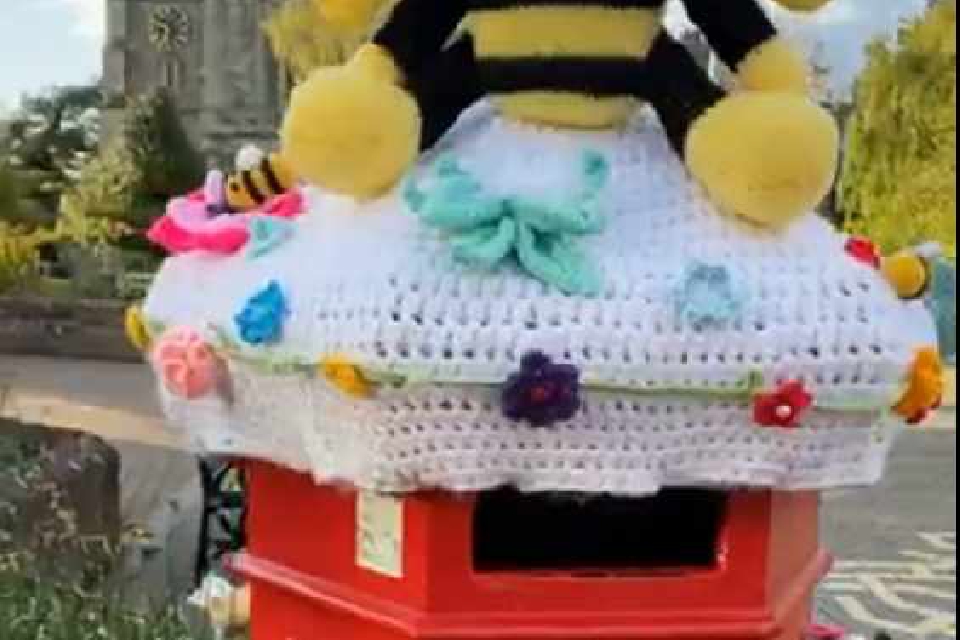 A knitting group from Tring feature in a new book detailing their lockdown creations
A funny thing happened during the three coronavirus lockdowns in the UK.
Brightly coloured knitted and crocheted artworks started appearing on top of letterboxes across the country. Adorned with knitted animals, nurses and even the Queen they became an outlet for all sorts of people who were trying to deal with the pressures of lockdown.

Yarn bombing started in the US, but the letterbox knitted toppers are unique to the UK. It's believed the letterbox trend began in Southend
in 2014 but it took off during lockdown.

John Cole-Morgan from Tring in Hertfordshire has been chairing the Tring Yarn Bomb Group since 2015. He runs a shop called Beginner's
Quilt Emporium which has been closed since March 2020. He says most of his customers are over 60 and he was waiting for the end of all covid
restrictions so as not to put them at risk.

Although he doesn't knit the toppers himself, throughout lockdown John presented a Facebook Live every day, to keep his customers - and himself
- going. His group first made toppers for the Queen's 90th birthday in 2016 and other knitted works of art have been used to raise money for
charity. Postbox toppers he says took off through lockdown in a way no one would have expected as people had more time on their hands and
were looking to find a distraction from daily life.

Now John is featured in a book, being published (8th June) to mark the scheduled end of the third lockdown. Lockdown Letterboxes, written by
Thomson Reuters journalist Belinda Goldsmith, features 16 case studies from around the country, including John - people who used knitting
needles and crochet hooks to cope with the unprecedented social turmoil caused by the lockdown.

No one knows how many letterbox toppers have been created in the last 16 months, but some places had up to 40 adorned post boxes, so the number is likely to be in the thousands.