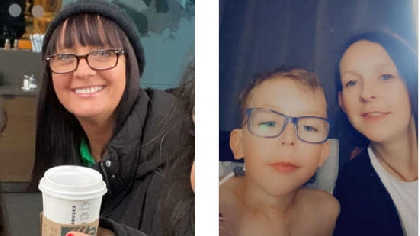 Parents have slammed the "dire" lack of local secondary schools in Burnham as the deadline to apply approaches.
Applications for secondary school places for September 2024 must be submitted by 11:59pm on Tuesday, October 31, 2023.
However, in Burnham, children heading off to secondary school only have grammar schools to choose from, which require them to take the 11 Plus exam.
The village does not have a single corresponding non-selective secondary school, making it the only place in Buckinghamshire where this is the case, according to the 'New Secondary School for Burnham' campaign.
Campaigners and parents have called for the vacant Burnham Park Academy – currently being used to film Netflix series Heartstopper – to be reopened.
Vicky Hudson, 35, wants the Opendale Road site to be used as a school again so her eight-year-old son Archie, who is in Year 4, has a local secondary to go to.
She said: "It's really tough because there is nothing out here. The schools are all oversubscribed.
He is going to have to travel.
"They really need to open up that school again because it would accommodate a lot of local children."
The mother-of-three and specialist teaching assistant from Hillingdon has lived in Britwell, Slough, for just over three years.
However, she is worried that her son may have to travel out of town to school, adding time and travel expenses onto the school run.
She said: "Secondary school pickings are very slim. You're looking at 20 minutes plus just for getting to schools.
"The schools round here are just not very good. It's got to the point where I'm thinking, 'Do I need to move again?'"
Another local parent, Kirstie Meadows, 53, shares her concerns about transport for when her seven-year-old son Jacob, currently in Year 3, goes to a secondary school that will likely be out of town.
She said: "I think it's dire. If we don't have a school, it'll be dire. It is going to have an impact on the children.
"These kids are going to have to get on a coach at 7:30 in the morning. You are asking young children to do an adult working day.
"It is just not fair. You're asking children to study in school, but they are tired. It is just a really mean circle that they are putting families under pressure. If they are tired what are their chances really?"
Kirstie is also concerned that children with special educational needs (SEN) have been forgotten when it comes to local schools.
The recruitment worker said she did not want her son Jacob, who has ADHD and speech, language and social development delays, to take the 11 Plus exam.
She said: "There is no consideration for children in general and there is no consideration for children with additional needs.
"I'm on an SEN group with mums and dads, and they all have the same concerns about putting their children on a coach. There is a very high chance that on a coach he would get bullied."
Burnham Park Academy closed in 2019 after pupil numbers dwindled following an 'inadequate' Ofsted report.
Anita Cranmer Buckinghamshire Council's Cabinet Member for Education and Children's Services said: "The closure of Burnham Park Academy was a decision taken by the Secretary of State, not the council, because of falling educational standards and decreasing student numbers.
"Even before the school's difficulties many families in Burnham chose to send their children to a secondary school in Maidenhead.
"There are two other secondary schools in Buckinghamshire within five miles of Burnham and Burnham families would qualify for free home-to-school transport to their nearest one."