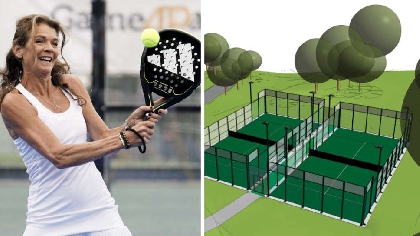 Plans for two new padel tennis courts have been approved, bringing the UK's fastest-growing sport to a Buckinghamshire village.
The new sports facilities, applied for by UK Padel Limited, will be constructed near the clubhouse at the Council-owned South Buckinghamshire Golf Club in Stoke Poges.
A path will be laid between the synthetic turf courts, each enclosed by high mesh fencing and toughened glass panels.
Each of the courts, measuring 10m by 20m, will also feature four 6m-high floodlights, which are only allowed to be used between 8am and a specified time in the evening which changes every month.
The South Buckinghamshire Area Planning Committee, which unanimously approved the courts, has filed a report about the site.
It reads: "The site area which has recently been cleared consisted of young trees within an area designated a priority habitat.
"The remainder of the site is surrounded by mature trees and landscaping. None of the surrounding trees are subject of a tree preservation order."
Although any development on the green belt is strictly governed, the report states that the materials being used for the padel courts "are not considered to be overlarge or unduly harmful to the green belt setting".
Councillor Wendy Matthews told the Planning Committee: "I think this is going to be a very good addition to the opportunities that we provide at the site."