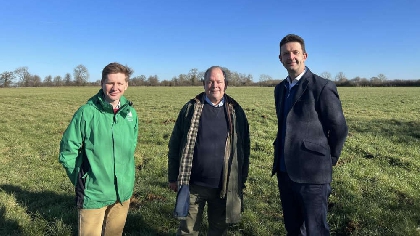 Plans to plant a brand-new woodland in Wing have been given the green light in a joint project between Forestry England and Buckinghamshire Council.
The new Wing Wood will see 132,000 trees planted on land owned by Buckinghamshire Council, creating an inspiring green space for local people, a valuable habitat for wildlife and a sustainable source of timber.
The decision to create the new woodland on the 51-hectare site follows a public consultation last year and local and national organisations were also involved in discussions over the woodland plan. Wing Wood will include a mix of tree species suited to the locality, five new wildlife ponds and a community orchard as well as accessible paths for walking and cycling. As part of the woodland design, Forestry England hope to link the new Wing Wood with Long Spinney Wood, creating clear paths and an easy connection between the two areas.
Forestry England will begin planting this year and aim to get most of the trees in the ground before the end of April with the rest planted in the autumn and winter. The 132,000 trees will form part of the council's pledge to plant 543,000 trees, one for for every resident in Buckinghamshire by2031, as part of its Climate Change Strategy.