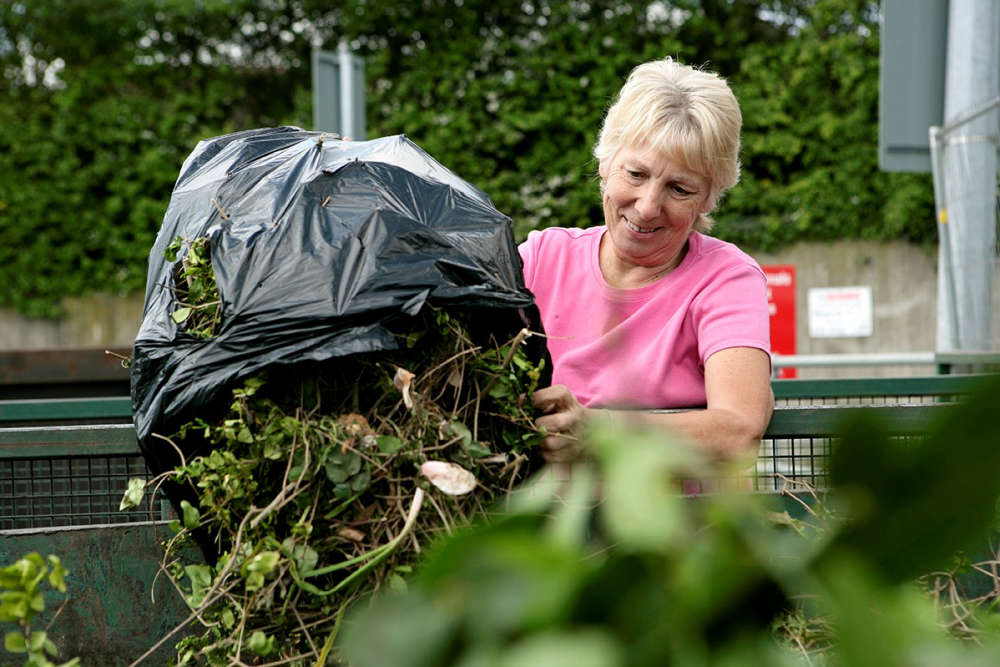 Buckinghamshire Council officially reopens the Bledlow Household Recycling Centre (HRC).
From today (Monday 16 January) the site will be open five days a week, closing every Wednesday and Thursday. It will open 9am-4pm in the winter (Oct-Mar) and 9am-6pm in the summer (Apr-Sep).
The site will look and feel very similar to other household recycling centres in the county. Buckinghamshire residents can visit free of charge, but there will be costs for disposing of any non-household waste.
Bledlow is a rural site so residents are asked to consider the local area when travelling. The site is most suited for small trips and residents with lots of waste are encouraged to use the larger sites such as Aston Clinton and High Wycombe.
To minimise disruption in nearby villages, residents are asked try to avoid visiting at busier times, like school drop off. Visitors should drive slowly and safely and take care of cyclists, farm machinery and other road users when entering and exiting the site.
There will be some temporary traffic management in place when the Bledlow HRC site opens. This is to ensure that other road users can pass the site without being blocked by queues outside the site. We will temporarily ban right turns into the public site entrance, this means that any users approaching from the South will need to follow a diversion. All public users must enter the site from the north.
This is a temporary measure and will be removed if traffic outside the site is not causing problems.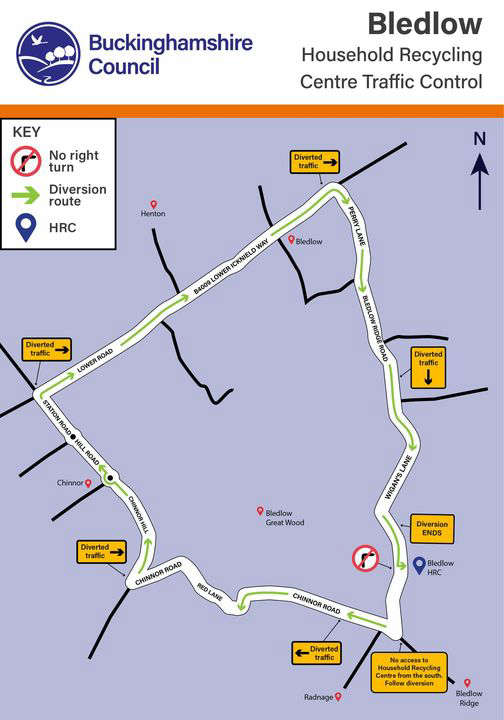 More details on the temporary traffic management can be found on the ONE Network live map and a simplified graphic is also available here. The order is in place for three weeks from the 16th, but may be removed earlier if it is not needed.
Before visiting, residents are encouraged to check the webcams online to see how busy the site is and for the quieter times to visit. All sites are currently open 9am-4pm however during busy periods, especially at weekends, last entry may be before 4pm to allow those already onsite to unload their waste and exit before the site closes. Residents are asked to consider coming back at another time if the site is busy, especially if there are queues outside the site.
Bucks residents are being reminded to bring proof of address when visiting, such as a:
council tax statement
utility bill
passport
driving licence
Waste permits will be needed if residents are visiting in vans, or want to use trailers. Trade waste is not allowed on site, please find an alternative site.
Oxfordshire residents, for example those living in the Thame and Chinnor areas, must pay to visit the site. Charges start from approximately £20 per trip for a small car, and nearer £50-60 for a medium-sized car. Alternative household recycling centres in Oxfordshire are available on the Oxfordshire County Council website.
Gareth Williams, Cabinet Member for Environment and Climate Change commented: "The reopening of Bledlow Household Recycling Centre will benefit local residents needing to make a small trip to the tip.
"We'd like to ask users of the site to be considerate of neighbouring communities and villages by driving slowly and being mindful about the impact of queues on traffic congestion. Please check the online webcams to see how busy the site is before visiting Bledlow HRC. If necessary, consider spreading your visits or visit the Aston Clinton or High Wycombe sites for larger trips.
"Based on other recycling centres in Buckinghamshire, we expect the site to be busiest on Saturday and Sunday afternoons and quietest on Tuesday mornings. To manage potential traffic outside the site, some temporary traffic management will be in place with no access turning right into the site from the south. All users are asked to approach the site from the north via Wigans Lane. Please check the website for more information and remember to plan ahead and allow plenty of time for your trip."
For more information visit www.buckinghamshire.gov.uk/bledlow-hrc
All sites open 9am to 6pm (April to September) and 9am to 4pm (October to March).
Sites open seven days a week:
Amersham - London Road East, HP7 9DT
Aston Clinton - College Road North, HP22 5EZ
Beaconsfield - A40 London Road, Lower Pyebushes, HP9 2XB
Buckingham - Yonder Slade, Buckingham Industrial Park, MK18 1RZ
High Wycombe - High Heavens, Clay Lane, Booker, SL7 3DJ
Langley - Langley Park Road, SL3 6DD
Sites open five days a week, closed on Wednesdays and Thursdays:
Aylesbury - Rabans Close, Rabans Lane, HP19 8RS
Bledlow - Wigans Lane, Bledlow Ridge, HP14 4BH
Burnham - Crowpiece Lane, SL2 3TG
Chesham - Latimer Road, HP5 1TL