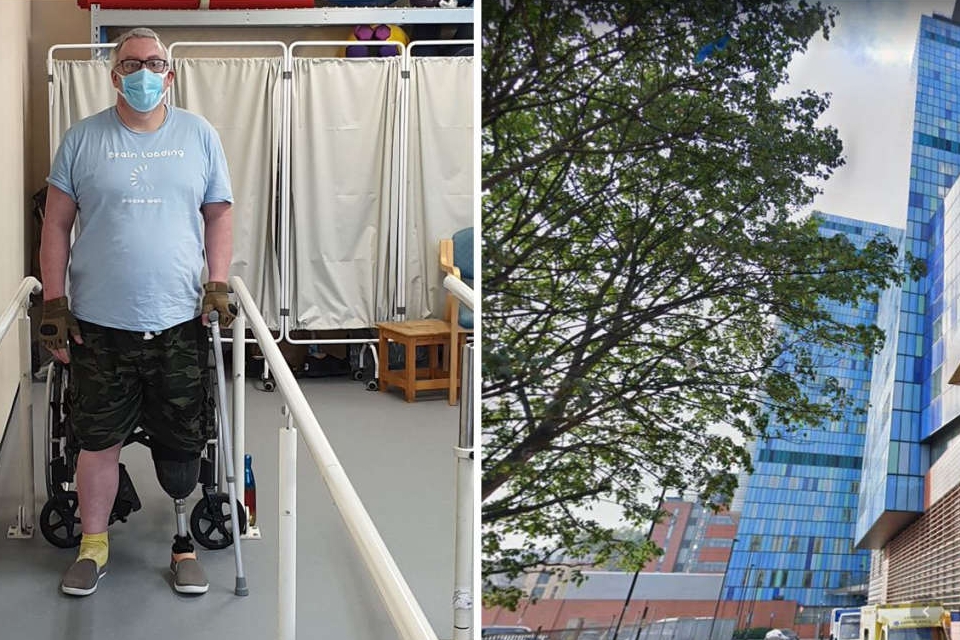 Elliott Rodgers, left, and the building he's going to abseil down [IMAGE: Google Maps]
A man from Chesham, who lost his left leg following an accident, is set to abseil 284 feet down the side of the Royal London Hospital to raise money for London Air Ambulance next month.
In 2010, Elliott Rodgers smashed his left ankle after a freak fall on some black ice. A decade of treatment was unable fix the damage and he was finally left with little choice but to have his leg amputated below the knee last year.
Now the 49-year-old, who's lived in Chesham since he was a teenager, wants to perform the daring feat that even he describes as 'crazy' to raise money for London Air Ambulance, a charity he's long admired.
Elliott told us: "My goal is to raise at least £2,000 because that's close to what they need for one take-off."
Indeed, London Air Ambulance's Charity website states that each mission costs on average, £2,048.
Elliott will be launching himself from the roof of the 17-storey hospital in Whitehall on the 8th September.
For someone having only minimal experience of abseiling, and the hospital being around three times higher than anything he's attempted previously, the Chesham man is remarkably unconcerned, saying: "To be honest, I'm not worried about heights – I'm more worried about going to the dentist!"
It wasn't the only time the plucky fundraiser made light of the challenge ahead. While informing us that the abseil is an annual event put on by the London Air Ambulance charity, Elliott couldn't resist adding that there is one difference this time around.
"Small detail," he joked, "but I'm missing a leg and a foot!"
It costs London Air Ambulance about £11 million a year to deliver their vital services. On their website they state: "We have been taking the hospital to the roadside for over 30 years, and have provided crucial support at major incidents throughout the capital, including the Paddington rail crash, the Grenfell Tower fire and the Westminster Bridge attack."
If you want to sponsor Elliott's 87 metre descent, you can do so here: https://fundraising.londonsairambulance.org.uk/fundraisers/elliottrodgers
You can find out more about London Air Ambulance here: https://www.londonsairambulance.org.uk/
[PICTURE: Some of the ways your donations to London Air Ambulance are spent]